Diesel wanted to relaunch the YUK shoe from 1993 to an audience that probably didn't remember the shoes, or was too young to care,

with no paid media.

 So, we needed to talk about something that resonated with them. Looking at our time it's obvious that the internet and all the possibilities it brings with it, is shaping our lives to a huge degree. Maybe we could get people to take a step back in time, and take a little break from their internet habits?
So we relaunched the shoe as a Pre-Internet Shoe. A no tracking, no timing, no wallposting, no bullshit shoe. With all the latest  technology from 1993, which means none. A shoe that doesn't connect to the internet, but to you. A shoe that doesn't track anything, but just looks cool.

We made the Diesel Pre-Internet Experience where the users could contribute in the battle against modern day oversharing online. A Facebook campaign where the users connected their account and pledges to not share anything for three whole days. If they also added Twitter and Instagram, the challenge took only two days to complete. We monitored their profiles, and any post, like, comment, tag or poke disqualified them. And while they were away from social media, we let their friends know what's going on, on their timeline. Customized posts were generated with accompanying pictures, explaining how the user had pledged to stop posting and go offline for a little while and encouraging their friends to join them.
 


The incentive? 20 pairs of shoes to 20 winners!
Hours spent offline in total: 110 250
Average time spent offline before failing: 17 h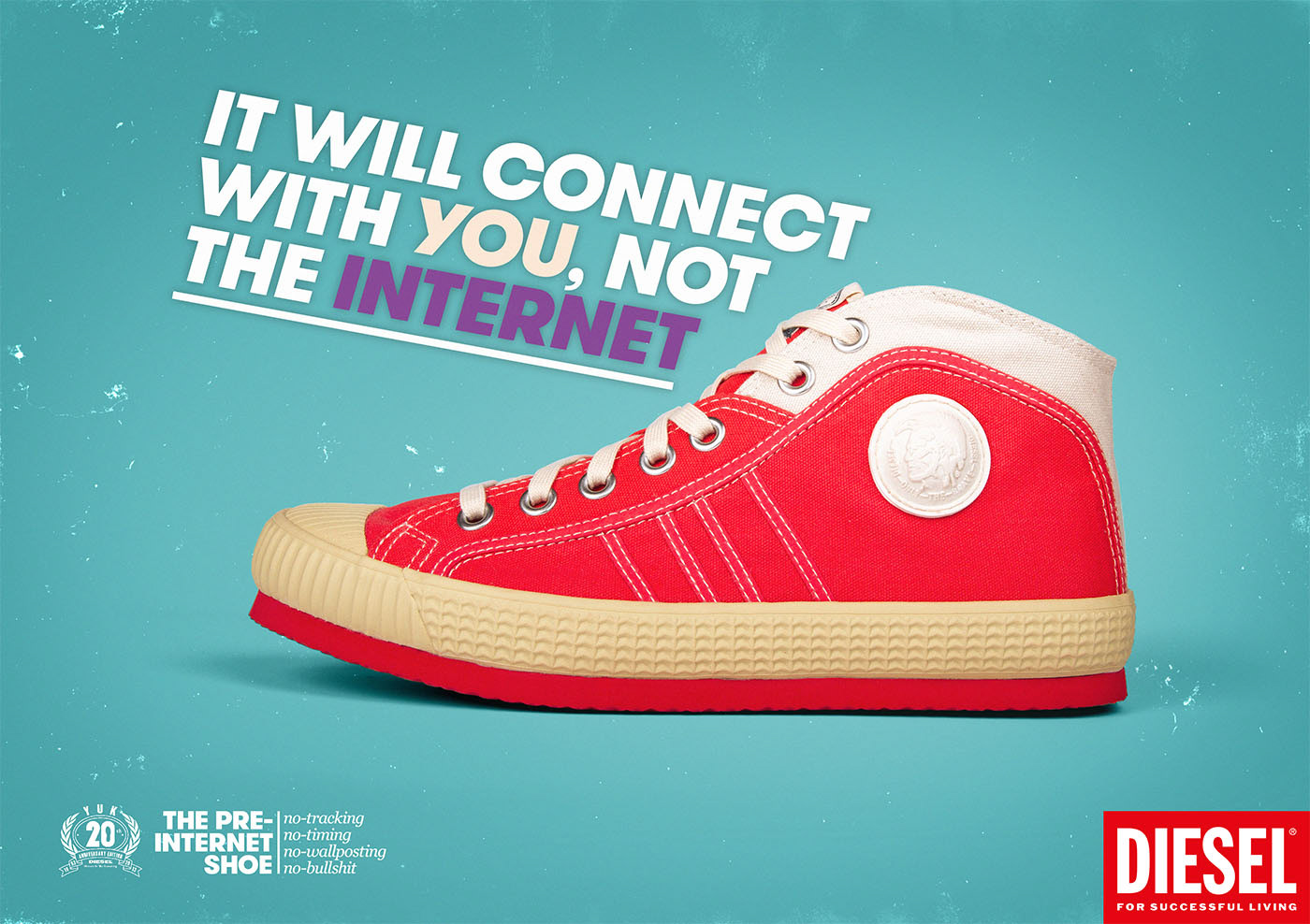 –


Agency: SMFB | Art Director: Magnus Høgberg Hansen | Copywriter: Pål Høyer-Andreassen | Account Direction: Kristian Lyse & Kristian Kristiansen | Graphic Design & Photo: Nicklas Hellborg | Project Manager: Silje Hvideberg | Web Producer: Christoffer Lorang Dahl | Case Movie: Sverrir Brynjolfsson | Viral Videos: Arnar Halldorsson